Peaky blinders theme party ideas:How to throw an original Peaky Blinders themed party with a little help from The Pourhouse!
Peaky Blinders is one of the best shows on TV today . Just going into its fifth season, this award winning show focuses on the gangland activity in Birmingham, England after the end of World War I. Even though most of us would like to avoid some of the less savory aspects of the setting, the world of the show is incredibly captivating. It's hard to watch the show without thinking about how cool it would be to live in that era, with those clothes. And while you can't travel back in time (yet), You can have the next best thing—a spectacular Peaky Blinders themed party.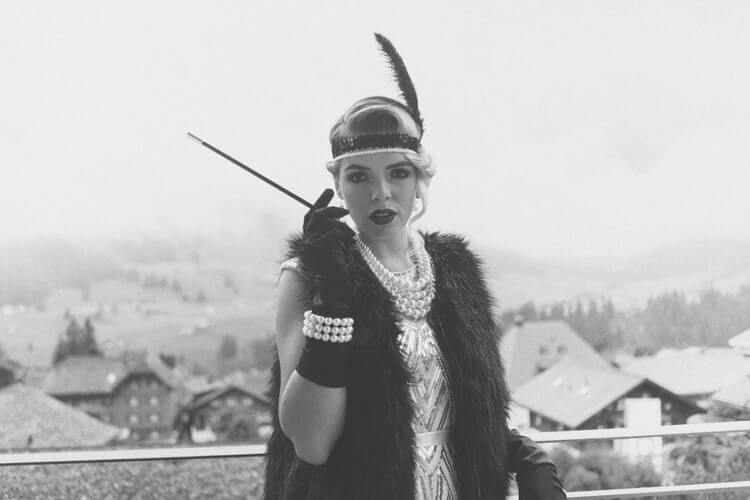 The Fashion for your Peaky Blinders costume party
The fashion on Peaky Blinders is instantly iconic. From the suits of the men to the flapper styling of the women, the clothing is a sumptuous feast for the eyes. To make sure the photos and videos of your party look perfect on Instagram for the rest of time, you want to make sure that everyone on your guest list knows what to wear and how to wear it.
For women, the key to fashion in the 1920s is giving yourself room to breath. Flapper fashions often featured drop-waist looks that allowed for great freedom of movement and significantly more comfort than some of the corseted looks that were popular only a few decades earlier. Don't forget a cloche hat, gloves, and a grand faux-fur coat to make for an unforgettable entrance.
The men will be looking great in three piece tweed suits. The styles and cuts of suits in this era were more specific than some people without a natural eye for fashion may realize. So for a visual aid, you can always go to the store that Steven Knight, creator of Peaky Blinders, set up. Of course, the look will be incomplete without a classic 8-panel newsboy cap. 
Since these styles aren't necessarily on the racks of every store at the mall, it can take some work to track them down. But many clothing and costume rental services can get you high quality ensembles to have you looking your best. If you really like what you're wearing, many rental services may even be willing to sell you your outfit outright.
Peaky blinders themed party ideas for menu
Food was in an interesting place during the era of Peaky Blinders. Rustic casseroles were popular, as were some interesting chicken preparations—such as poaching chicken in sparkling white wine (this was more popular in England, since the USA was in the middle of prohibition) or chicken a la rose. But beyond the evening's entrees, we can see rich, gin and rum infused cheesecakes and puddings and, most importantly, the cocktails.
Cocktails can range from the simplicity of a Gin and Tonic to a classic Old Fashioned. Those with a sweet tooth may also like a Mary Pickford (made with white rum, pineapple juice, and grenadine) or a Bee's Knees that mixes honey syrup with gin for a delightful treat. And of course, beer and Irish whiskey are never out of style.
 The Venue
This might seem like the hardest part of putting together a Peaky Blinders night. After all, you don't want to throw your party full of spectacular clothes and decadent food and drinks in some drab room that looks like the common room of someone's freshman dorm. You need a venue that fits the theme as perfectly as your outfit. That's where The Pourhouse comes in. Not only is The Pourhouse a great destination for live music, watching sports, and dancing to the best DJs you'll find in Minnesota—its prohibition era theming makes it a perfect spot for all your Peaky Blinders theme party ideas. 
Nothing says class and sophistication like a party set in the wild days of Peaky Blinders. The clothes, the food, and the drinks will make you wish the night would never end. And with a venue like The Pourhouse in downtown Minneapolis available for rental you can give your guests a night they'll never want to forget.